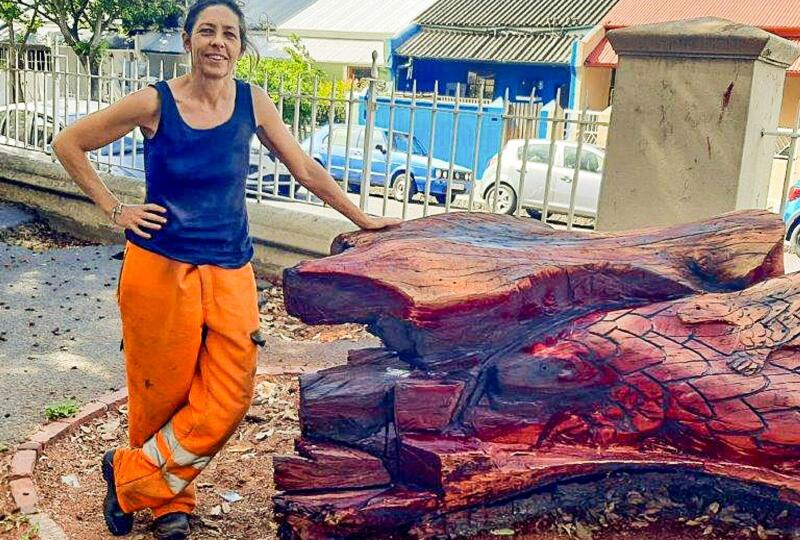 A sculpture of a pangolin mother with a baby on its back greeted Queen's Park High School pupils when they returned to classes this week.
Noel McCully, who lives next to the school, used a chainsaw to create the sculpture of the endangered species.
The 51-year-old architect became interested in chainsaw art after coming across instructional videos on YouTube. She was wanting to put what she had learned into practice when she noticed a bough that had broken off a large tree at the school during a storm in 2017.
After getting permission from the school last October, she set to work. The bough was too large and too heavy to move, so she created the sculpture in situ.
The wood had become hard and dry over the past three years.
"My chainsaws are also not the largest and most powerful, so sometimes getting through the larger pieces took a long time," says Ms McCully. "It took around 70 to 100 hours over a few months."
She completed the sculpture on the final day of school in December last year.
The sculpture, she says, is also a way to commemorate World Pangolin Day, on February 20, which raises awareness about the plight of pangolins, one of the most trafficked animals in the world.
"Many people don't even know what pangolins look like, and because of this," says Ms McCully, "I thought that carving one that people could view, especially at a school, would raise awareness and make people ask 'what is that animal?'"
The sculpture is near the school entrance, and anyone walking past the school will see it.
Acting principal Nicolene Abrahams says it's heart-warming to see the interest Ms McCully and other neighbours have shown in the school.
"We believe a school is part of the community, and this artwork done by the neighbour shows how the school is included in the community."
Ms McCully has created smaller pieces, usually inspired by nature. "My goal is to do more large sculptures at schools, parks, wine farms, homes, where I can work with large trees that either need to be felled or have fallen over and can be carved on site," she says.
Visit Ms McCully's Instragram account, carved.by.noel, to see other examples of her work.