Residents of a Woodstock old-age home say they are living in cramped conditions and that their ageing cottages are sorely in need of maintenance and repairs.
Roofs leak, paint and plaster peel from mouldy walls, bedroom door handles are broken and they sleep three to a room, say the Haven Old Age Home (HOAH) seniors. They say the home's management needs to pay more attention to their living conditions.
Six adjoining cottages make up the Aberdeen Street home's independent-living section. There are six seniors in each two-room cottage and they sleep three per room. There is one bathroom, a kitchen and a lounge in each cottage. The residents pay R1100 rent a month.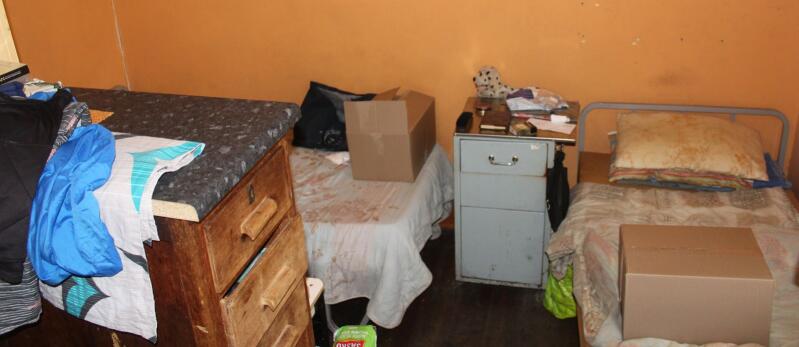 Lincoln Jeptha, 63, has lived in the home for two years. He says his bedroom door doesn't close properly and plaster is coming off the walls of his cottage.
"We feel like we get treated unfairly as the manager doesn't meet with us regularly and the social worker only visits us once per month to collect rent."
Ghakiem Isaacs, 62, has been at the home for a year. They have nobody who cleans regularly, and his cottage always feels dusty, he says.
"We feel that nobody follows up with us," he says, "and we feel cramped sleeping three in a room."
A woman in her 70s, who, fearing reprisals, did not want to be named, says she has diabetes, chronic asthma, and high blood pressure. She says no repairs are done on the property and management fails to check on residents' well-being.
Another resident, who also didn't want to be named, says she finds it hard to share a room with two other people and she fears they will pass on illnesses to her. Management has not heeded her concerns, she says.
Woodstock Community Policing Forum chairman Youssef Kanouni says he visited the home after residents complained to him and noted the mouldy walls crying out for a new coat of paint, inadequate cleaning, decrepit furniture and a lack of entertainment for the residents.
"These senior citizens are the anchor of the country and they need to be respected and taken care of," he says.
Hassan Khan, the CEO of The Haven Night Shelter Welfare Organisation, says the residents are free to raise issues with Haven staff and can easily draw the attention of management through an internal complaints process.
A nurse visits the independent living units each week to do health checks and a Haven staffer also visits once a week for maintenance purposes, he says.
The Haven deals with maintenance issues as soon as possible after being notified about them or when they are noticed during regular staff inspections, he says.
Residents who complain internally must do so in writing. "Any complaint not resolved within three days at a local level may be escalated to the Haven head office for further attention," Mr Khan says.
He admits that ongoing maintenance in the old buildings can be difficult and expensive. "We do budget for maintenance and will have to increase the budget even though the facility is running a significant loss due to the limited financial means of clients, who are limited to only their state pensions."
They don't ask the residents' families to make contributions but rely on donations and offers of help from the community to make ends meet, he says.
Meanwhile, the provincial Department of Social Development's older person programme is to visit the Haven's old-age home facilities to check conditions there, according to the department's spokesman Joshua Chigome.
"This is to get the full picture of the operations, condition of the buildings and compliance with norms and standards."
Visit www.haven.org.za/donate or call 021 425 4700 to learn more about how you can help the HOAH.