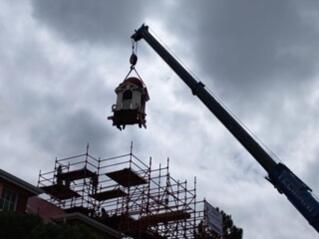 COLIN JOOSTE
The turret, also known as the bell tower, on top of Dryden Street Primary School in Salt River – the cupola to be correct – is gone but not forever.
For nearly 113 years the people of Salt River have grown accustomed to the turret that adorned the roof of the school.
Thousands of garment workers who passed the school over the many years on their way to the factories in the vicinity have often mistaken it for a mosque within a school.
Not only did it serve as a landmark but a permanent fixture of the Salt River skyline.
According to principal Stanton Smith, the removal of the cupola was necessary as the wooden structure was disintegrating from more than a 100 years of varying weather conditions. "It has been taken for repairs to a specialists workshop in Brackenfell."
He added: "When the crane arrived to remove the cupola it caused quite a stir among the learners and the passers-by. The bell tower (cupola) has been a symbol of hope for thousands of learners for more than 113 years. Unfortunately we will have to do without it for the next six months before it will be restored to its former glory."
Retired school principal Bayar Laattoe, who was involved in the initial negotiations to restore the cupola, said: "Weathered components of the turret had to be replaced years ago already. Only those who appreciate the class of workmanship that went into the composition of the turret would endeavour to save the structure. Fortunately this time, Heritage SA took the bull by the horns and removed it using a crane..I have no doubt that the cupola will soon enjoy pride of place adorning the skyline in Dryden Street."
According to Ursula Rigby of Heritage SA, the school is situated in a Heritage Protection Overlay Zone and is recognised as an architecturally significant building. The school was awarded the Simon van der Stel Foundation Blue Plaque Award in 2017.
The school's cupola is a Victorian ventilation turret, a rounded dome forming or adorning a roof or ceiling, and it's one of the most intact of its kind in Cape Town. The structure was found to be leaning to one side as the support frame has rotted and was falling apart. Its exterior is also in dire need of repairs and repainting .
"The cupola has been identified as a critically important part of the building, and efforts had to be made to stabilise and repair it, as it contributes substantially to the authenticity and high grading of the school building as a heritage resource," said Ms Rigby.