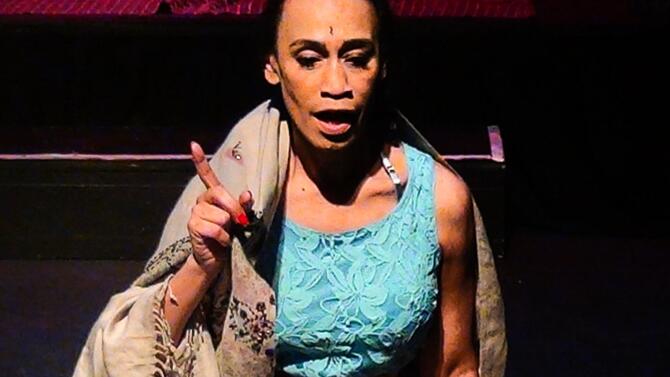 Simone Heradien, of Woodstock, goes on stage at the Artscape theatre next week in a play she has written, The Real Mrs Muhammad, billed as "a drama of love, betrayal and polygamy".
This one-woman play, in which Ms Heradien takes on multiples roles, is based on a real-life experience between the author and her partner.
"The Real Mrs Muhammad tackles the complexities of an inter-cultural live-in love affair between a naturalised, practising Muslim woman, a Pakistani man named as Sajid, and an atheist South African woman, Simone, that is interrupted by an arranged marriage," she says.
Ms Heradien says the play explores the complexities of Sajid, who has an arranged marriage with the Muslim mother of his baby, having a relationship with the character Simone under one roof.
"Deviously she agrees that the wife and baby could move to South Africa to live with them. Is this a ruse in her under-handed gamble in the hope that between the wife and the common law wife, The Real Mrs Muhammad would be revealed?" she says.
The play is directed by Kurt Engelhof.
Ms Heradien works in Artscape's arts and culture department, and before that she was with Alliance Française and the International Classical Musical Festival.
The Real Mrs Muhammad will form part of the Suidoosterfees at the Artscape theatre. The festival is from Monday April 25 to Sunday May 2, and you can catch The Real Mrs Muhammad on Wednesday April 28 and Friday April 30, from 6.30pm. Tickets are R70 and can be can be booked through Computicket or the Artscape website. There is a PG-16 age restriction, and performances are subject to Covid-19 regulations. No Mask, No Entry.